The selection of Yokkaichi as Long Beach's Sister City can be traced to Nagoya being the Sister City of Los Angeles. That affiliation became official in 1959. The mayor of Nagoya recommended Yokkaichi as a sister city for Long Beach because of the close proximity of Long Beach and Los Angeles and Nagoya and Yokkaichi.
On Sept. 25, 1963, the Long Beach City Council led by Mayor Edwin Wade unanimously recognized the Japanese port city of Yokkaichi as its Sister City. Then on Oct. 7, 1963, the City Assembly in Yokkaichi led by Mayor Sukenori Hirata approved the relationship.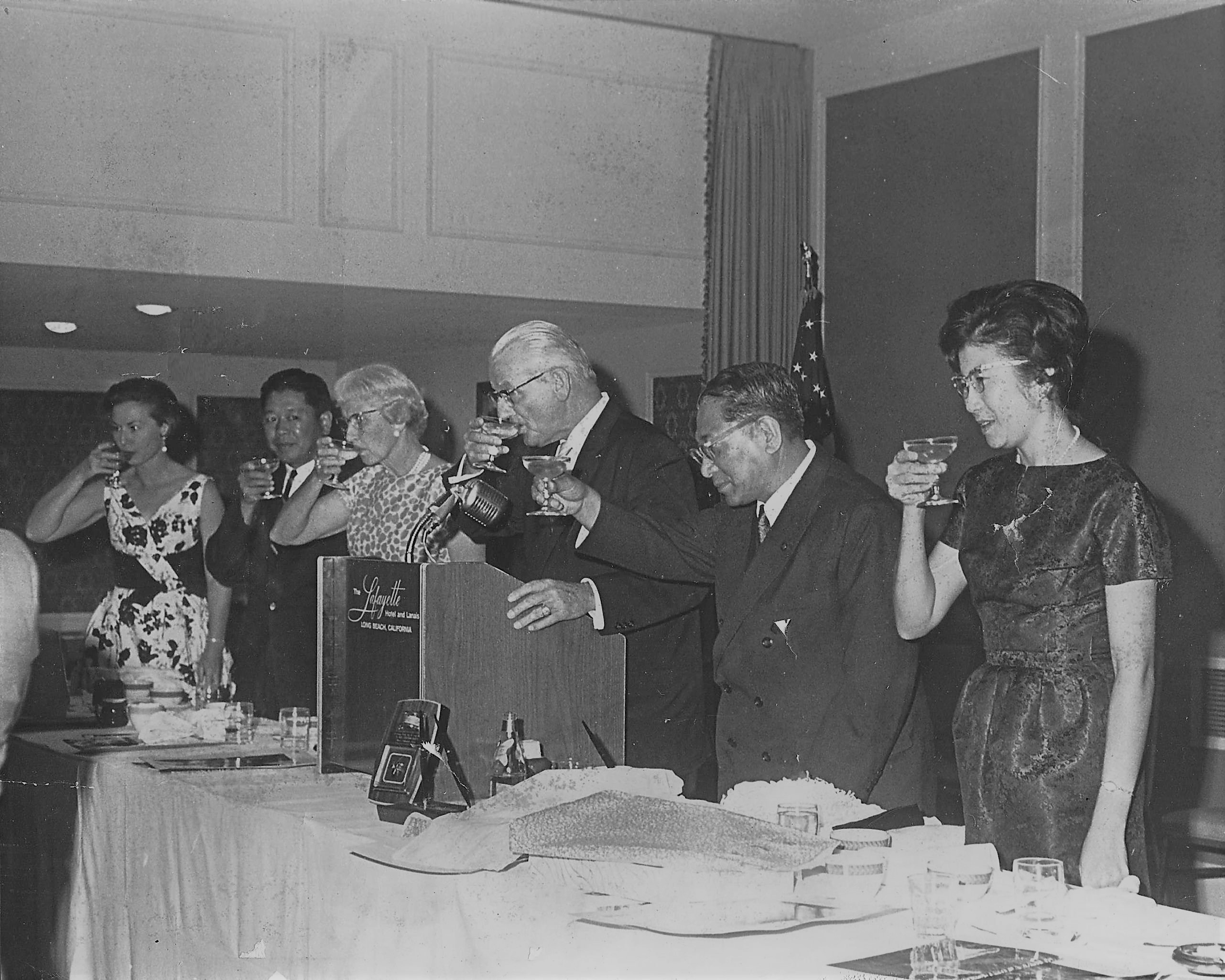 Left to right: Unidentified woman, Dr. John Kashiwabara, Mrs. Edwin Wade,
Mayor Edwin Wade, Mayor Sukenori Hirarata,
LB-Yokkaichi Committee President, Kay Matsumoto.
Toasting the Long Beach and Yokkaichi union
September 1963
he Board of Harbor Commissioners for the Port of Long Beach accepted the sponsorship of the Sister City Program for Yokkaichi at its meeting on Jan. 6, 1964. From then on, many positive things started happening to bring the two cities closer together. The first meeting of the Long Beach-Yokkaichi Sister City Committee was held in Recreation Park on May 14 with Mayor Wade chairing the committee.
One of the first activities was an exchange of paintings by school children in the two cities. Another involved the International Beauty Pageant held in Long Beach in which delegates came from Yokkaichi and were treated to many tours, receptions and gala events during their visit and a parade down Ocean Blvd. with Miss Yokkaichi and both mayors in the lead car.
The first official joint meeting of the Sister City Committees representing Long Beach and Yokkaichi was held Aug. 10, 1964, with the primary discussion being the exchange of students. They planned for two Yokkaichi students to come in the summer of 1965 and two Long Beach high school students to visit Yokkaichi the following summer. The cultural exchange, referred to as the Trio Program, includes a teacher from each city and continues to this day.
1st Yokkaichi Trio - 1965
1st Long Beach - 1966

--continued next column
In June of 1965, Mayor Wade, on behalf of Long Beach, accepted an ornate and colorful Japanese Shinto shrine given by Yokkaichi. An artwork in wood and gleaming brass, the Mikoshi, or portable Shinto shrine, was brought to Long Beach on the carrier USS Yorktown through the Navy's cooperation. The shrine came in nine separate pieces with a total weight of 920 pounds and is flanked by a pair of brass lions' heads to represent guardians of the shrine. It has a large drum made from a hollowed log that is carried before the shrine and sounded in parades.
Mikoshi (shrine) gift from Yokkaichi to Long Beach
Long Beach then sent a gift to Yokkaichi, an oil well pump provided by Signal Oil and a working model, a 20-inch derrick, of a modern oil rig given by Shell Oil Co.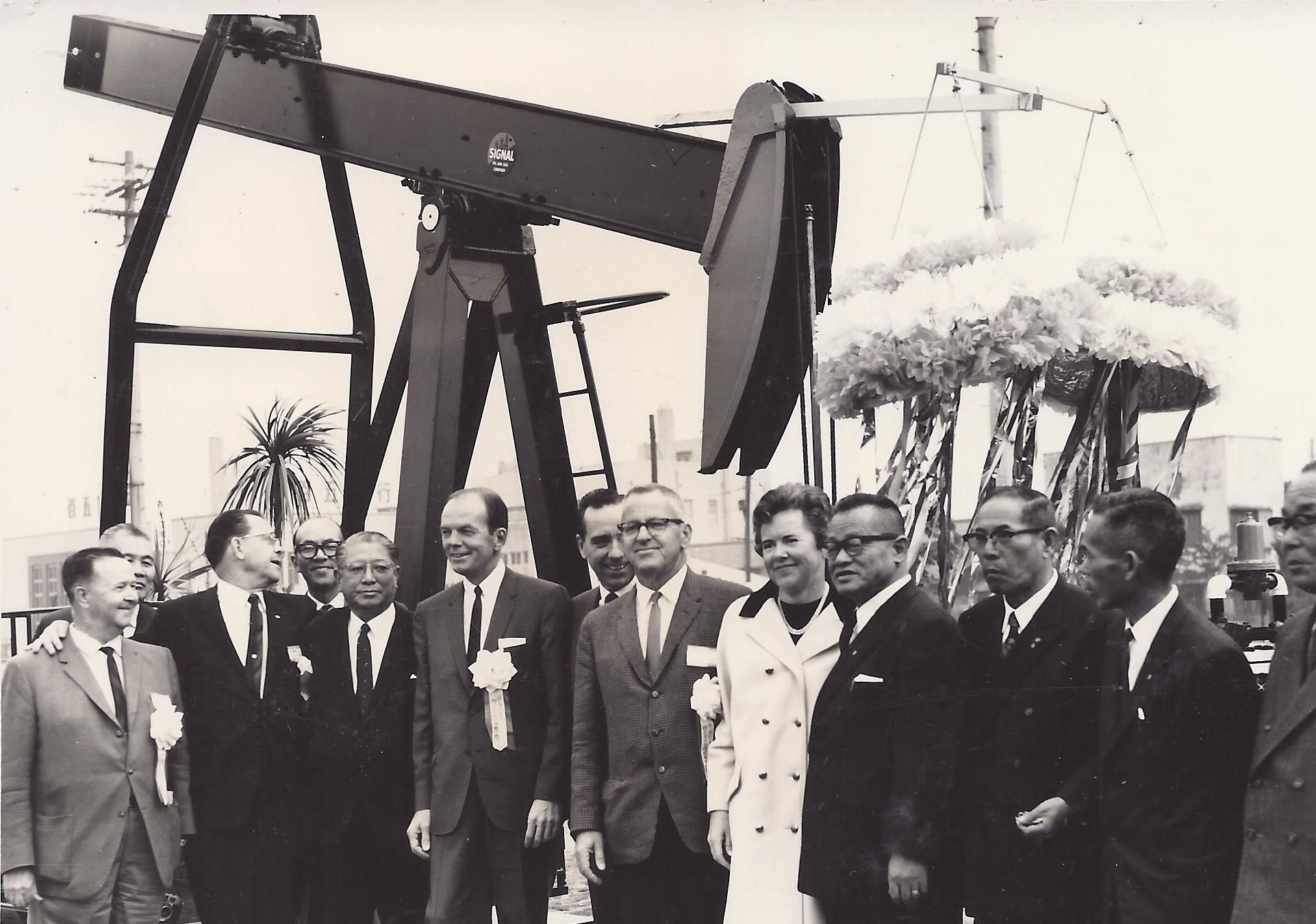 Long Beach delegates in Yokkaichi pose in front of an oil derrick,
a gift from Long Beach to Yokkaichi.
Through the years activities of the Long Beach group with its sister city of Yokkaichi have included photo contests, golf tournaments, book donations, swimming meets, pen pal programs, business exchanges and many visits by various delegations.
In operation for more than 20 years is the successful Yokkaichi English Fellows Program (YEF). It provides an opportunity for Long Beach teachers or Cal State Long Beach graduates to serve as assistant language teachers at the elementary and middle school level in Yokkaichi for two years.
Another successful program, the Doctors Program, coordinated by the Long Beach-Yokkaichi Sister City Association is the annual visit by physicians from the Yokkaichi Municipal Hospital. They come to Long Beach for about two weeks to observe medical procedures and technology at the Memorial and St. Mary Medical Centers.
In 2007 the Environmental Summit Program was launched when former Yokkaichi Mayor Tetsuo Inoue proposed that a delegation of Long Beach students travel to Yokkaichi to discuss environmental problems and solutions with students from Japan and China in cooperation with the Port of Long Beach and other environmental groups.
The sister cities of Long Beach and Yokkaichi know the importance of President Eisenhower's wish to bring people of different cultures together and are continuing to fulfill our Mission Statement:
"To create rapport between the cities by exchanging cultural, civic and educational ideas and issues and to promote better understanding and friendship between the United States and Japan."